CBT
Compulsory Basic Training CBT (Including Module 1 of the new test)
Available across the UK. You could look for CBT Wembley or Wigan, they should all be the same. CBT throughout the UK is governed by the DVSA. Many motorbike schools start with 125 machines, at Mallory Park we are different.
All clients lients over 19 years have the choice of starting on a variety of 650 - 1250 machines.
No-one can progress onto the motorcycle test without first earning a CBT test certificate. CBT training starts with the basics: on an off road tarmac area, familiarising yourself with the controls of the bike, starting, stopping, slow riding, manoeuvring around cones and emergency stops.
During out CBT training you'll also be given a session on cornering techniques on the race track, where we will introduce you to counter steering, pivot steering, ideal reference points, suspension setup and emergency braking in the bends. With no traffic around, you can build your confidence and technique at speeds of up to 70mph!
With our unique facilities you can practice the "swerve test" for the module 1 bike test, on the race track or paddock repeatedly, until you feel confident.
The hazard avoidance test is delivered on track at speeds of up to 60mph for all clients. You can practice accelerating up to speed in 2nd or 3rd gear to decide which will give you the best drive depending. You can then try this test, on track at a variety of speeds until you find your personal limit (we topped out at 70mph) It's easy when you know how to counter steer and by the end of day your first day you'll know what we mean!
Further CBT Training
Further training on inclines is included in the off road element, which is ideal preparation as not all roads are flat! Once you are confident you've got it, your CBT training will continueon the road and take in hazard perception and overtaking manoeuvres along the way.
The CBT course is completed with a two hour assessment on public roads.
Our CBT training course enables all clients to experience:
Counter-steering to enable students to safely negotiate bends and corners at road legal speeds.
Use of the racing circuit to get up to the speeds needed for A roads and dual carriageways.
Slow speed control and balance techniques.
Hill starts, U-Turns(both uphill and downhill) braking on bends and realistic left and right turns.
Proper use of gears to obtain realistic rates of acceleration.
It is a training program with constant assessment which you must complete satisfactorily before any certificate is issued by the Approved Training Body (CBT Mallory Ltd). Attendance does not qualify you for a certificate- it is not a guaranteed pass!
There are 5 elements to the course
Element A
Introduction to the course, it's objectives and strategies.
Discussion on the legalities and merits of clothing and crash helmets.
This is your chance to ask as many questions as you wish before we start!
Your eyesight will be checked at this point by reading a standard number plate at a distance of 21metres
Your driving licence to be checked at this point-please keep it with you throughout your course, especially for test day!
Element B
This is a practical lesson where you are introduced to your bike, be shown the controls and how it all works.
You will be shown the following;
Use of the centre stand.
Manual handling.
How to get on and off the bike correctly.
Correct procedure to start and stop the engine
At this point we will also demonstrate basic safety checks which are the riders responsibility covering chains and sprockets, brakes, oil, lights, tyres, steering and suspension. (C-BOLTS)
Element C
This is a practical lesson where we teach you basic machine handling through a minimum of three gears up to a minimum speed of approx 30mph.
Throughout your course our instructors will always talk you through each new manoeuvre and are readily available to demonstrate each aspect of control to further clarify matters.
You will be expected to demonstrate safe use of gears, throttle, brakes, steering and balance to continue further.
Specific exercises such as emergency stops, controlled braking using both brakes to a halt, figures of eight, u-turns, rear observations and left/right turns must be performed to an acceptable standard.
Observe, Signal, Manoeuvre, Position, Speed ,Look. (O.S.M.P.S.L) is introduced at this stage to provide continuity when riding.
Element C2
Prior to moving onto public roads with the obvious hazards this entails, we supply optional extra training which goes way beyond the CBT syllabus.
We believe that it is imperative for each client to build their confidence and understanding of bike control at high speed, as well as slow. Before continuing with your CBT schedule you can take advantage of the facilities of the race circuit, beyond of our "designated CBT area". This will allow you to safely explore the bikes potential through all six gears and build confidence in your ability to control the bike through corners at up to 80mph! Whilst emergency stops for both CBT and the practical test are conducted at a maximum speed of 30mph in a straight line, we actively encourage and demonstrate how to perform emergency braking both on the straight and halfway round corners up to a maximum of 80mph whilst you are leant over! Using the racetrack to improve your newfound skills will have a positive effect on your performance once you take to public roads. Your depth perception, involving vanishing points becomes much improved after practicing braking mid corner between 40mph - 80 mph. This element does not form an official part of your CBT certification.
Before taking to the track a classroom briefing will discuss the objectives to be met.
You will be instructed on how to corner correctly at speed using counter steering techniques traditionally reserved for more "experienced" riders. Emergency stop procedures are also demonstrated both in a straight line and as a separate exercise halfway round a corner.
A minimum speed of 50mph must be achieved to progress further.&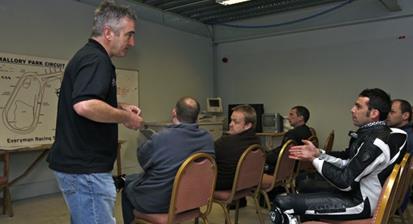 Classroom briefing
Element D
This is a classroom session to fully prepare you for your first venture out onto public roads.
This is an open discussion on all aspects of road riding covering a number of topics with particular relevance to motorcyclists e.g. road positioning, hazard perception, forward planning, appropriate speed, road and weather conditions, following distances, the need to be clearly visable to other road users, why motorcyclists are more vunerable than other road users and legalities of CBT certificates / 125cc test passes/ 33bhp laws/ direct access/ full test pass.
Element E
This is a practical on road lesson lasting a minimum of 2 hours. Whilst on the road you will be in radio contact with your instructor (one way only). You must successfully negotiate the following;
A + B roads
Hill starts
U-turns
Emergency stops
Variable speed limits, junctions, roundabouts
All of these elements should be negotiated at a speed that does not hinder any other road user or pedestrian. A safe following distance (min 2 seconds in dry conditions or min 4 seconds in wet conditions) allowing defensive riding is mandatory to pass this stage.
Questions to ask before you book a motorcycle training course;
Is there room to get out of second gear on the off road training area?
Is there enough room to make mistakes?
Do they teach counter-steering?
Emergency stops – are they done at realistic road speeds?
What is the instructors view on practicing emergency braking mid corner?
How fast can you practice before going onto public roads?
Can you duplicate road speeds in a safe controlled environment?
Who decides when you are safe to go onto public roads? (You will know when you are ready. More importantly, you'll know when you are NOT ).