Direct Access - 5 Day (No Experience, Fast pace) £1,450
The 5 day course is for learner riders with no relevant experience, who want to start from scratch. Our aim is to help you pass your test in a week. The race track gives you the ideal environment to make safe progress in a controlled, relaxed way, calming any nerves and allowing you to concentrate on controlling your bike safely and building your confidence. It's the perfect way to start your motorcycle training.
Motorcycle training can be very difficult and hazardous if you start out too early on a public road, as there are too many distractions with traffic, pedestrians, kerbs and signs. This is why clients love the idea of coming to a race track, where you can learn at your own pace. The progress most people make is quite astounding. CBT is included, so there is no need to wobble round a car park and scare yourself out on he road on a 125cc bike.
Our motorcycle training takes a more considered approach, appreciated by thousands of riders over the last 27 years.
Within the first day you'll be able to understand how to use all 6 gears, achieved speeds of 50-70mph, perform an emergency stop between 30-70mph, steer correctly at low and high speed, understand how to balance the bike at slower speeds, use of mirrors (OSMPSL), procedure for hazard awareness and meeting traffic, upward and downward hill starts along with turning left or right at junctions.
The use of counter steering for faster corners is fully explained and demonstrated on track for you to fully appreciate the need to understand how to safely ride your new bike. Our motorcycle training will prepare you for the bike test and more importantly, for the years ahead, when you have to make split second decisions to ensure your safety and enjoyment of motorcyling. Accident prevention is the key, so we will ensure you know how to stop a bike mid corner, while leant over between 40 - 70mph. This will totally change your depth perception when it comes to cornering and keep you 100% safe.
It's essential that we teach you how to accelerate at an acceptable rate for the road. We can do this on the race track to build up confidence and understanding of acceleration through the gears along with smooth control of the very sensitive throttle. You should be confidently accelerating away from junctions up to 50-70 mph by midday. We even pillion each client where needed to help you understand the rate of acceleration required.
Just as importantly you need to know how it feels to stop the motorcycle from 70mph. On track we can help you undertsand how it feels, correct procedures for test and appropriate braking pressure to guide you safely down to between 30mph or slower.
These are essential skills for the road. We can cover all these areas on day one to give you a broad, enjoyable experience. The whole course is structured to ensure you are confident of getting out onto the public road at the right stage.
Only when you feel happy on the track between 0-70mph would we consider going out onto public roads. Then, because you know you are in FULL control of the bike, we can cover far more miles successfully and your confidence will increase. More importantly, you are SAFE.
Junction work has already been dealt with on track numerous times, so when it comes to a real life situation, you are fully prepared. Halfway through the week you'll be wondering why anyone would want to learn anywhere else!
Days are scheduled from 9.30am - 4.30pm.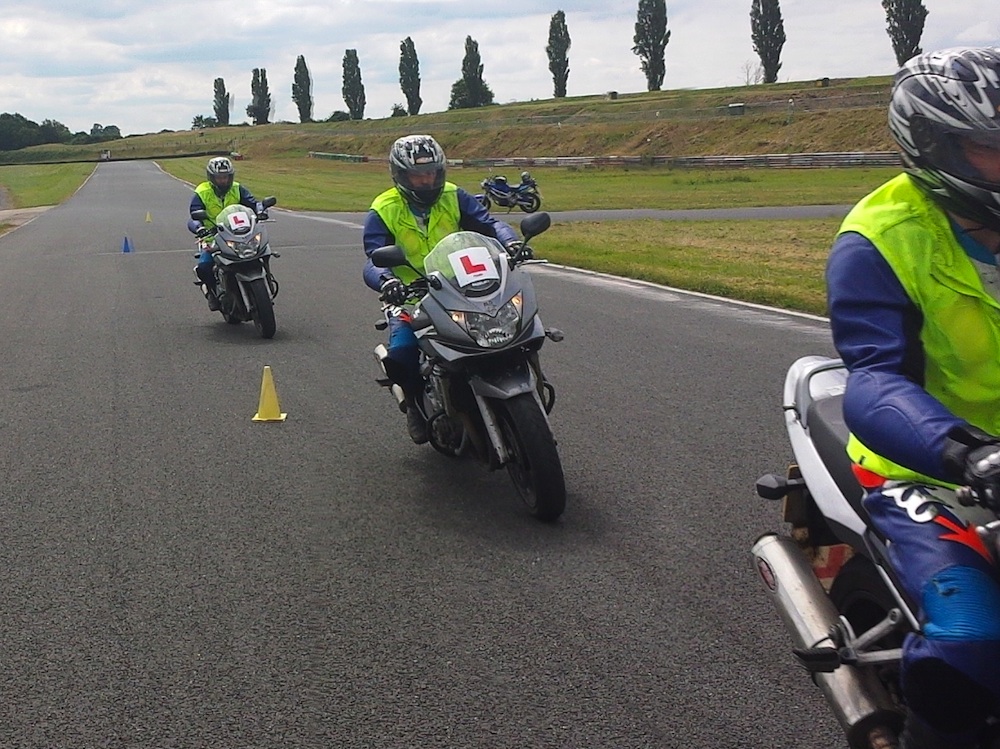 CBT / Direct Access Motorcycle training at Mallory Park
Direct Access motorcycle training enables riders to gain a full UK motorcycle licence. This means you can go directly onto large capacity motorcycles safely, as long as your training is as exhaustive and detailed as it should be. At Circuit Based Training, we have the experience to deliver quality bike training for every new rider, helping you to pass the bike test with confidence. We don't believe that "adequate" training, covering just the basics of motorcycling is good enough. Through our work with the racing community, the motorcycling press and Police forces throughout the country, we have developed the best Direct Access training programme in the UK. Talk to any motorcyclist and they will tell you what we teach is great for getting a test pass but more importantly, it will keep you out of A&E. Our training will put a huge grin on your face when you realise the true benefits of initial training on the race track. Let's teach you how to perfrom emergency stops at 30-70mph half way round a bend or in a straight line, because, let's face it, you don't get the choice in the real world. Let's cover cornering techiques in full, the same as an "advanced" motorcyclist, because we don't believe that going round a corner is an "advanced" skill, it's essential! We all need confidence when it comes to cornering, this is born out of good, proven technique. Let's teach you all the techniques, within the safety of the race track. You'll soon realise that riding a motorbike is ALL about cornering confidence, without it you'll be scared stiff and never make the progress that you have been dreaming about.
The Direct Access course covers vital areas such as;
Hazard perception / Forward planning / Scanning / Dismissing / Focal points / Risk assessment
Throttle control / Clutch control / Braking balance / Cadence braking / Reference points / Balance points / Slow speed skillls
Module 1 and 2 test procedures / Mock tests on track and road / Junction work on track and road / Speed limits / Traffic management / Crash avoidance / Overtaking / Filtering
Direct Access - Checklist
Before booking your motorcycle training course you should be aware of the main reasons most new bikers get into trouble.
Inability to corner correctly.
Poor slow control - especially at junctions.
Lack of ability to brake in corners between 40 - 70mph.
Feeling pushed out onto public roads too early
Circuit Based Training will help you understand and master these vital areas of riding a motorcycle. Based at Mallory Park Racing Circuit we have one of the largest, most versatile and best equipped training facilities in the UK. We offer our clients bespoke, flexible training packages that suit every individual. The emphasis is on having fun while learning to ride, but more importantly, making sure we produce good riders rather than just passing a test.
Everybody appreciates that you need room and time to practice, BEFORE embarking onto public roads, let us give you the training you deserve with the high pass rate you need.
Call us on 01455 840645 if you need advice. As a guide, we would suggest the following;
4 Day course = Limited experience of motorcycles.
5 Day course = No Experience.
9 Day course = No Experience. Steady pace.
Remember, you will have to pass your Motorcycle theory test before attending your course. Call 0300 200 1122 or go online to book. Always carry your driving licence while on the course. DVSA rule is No licence = No Test

Hazard avoidance motorcycle training at Mallory Park
The hazard avoidance test is delivered on track at speeds of up to 60mph for all clients. You can practice accelerating up to speed in 2nd or 3rd gear to decide which will give you the best drive depending on which bike you are on. You can then try this test, on track at speeds of 30mph, 35mph, 40mph, 45mph until you find your personal limit (we topped out at 65mph) It's easy when you know how to counter steer and by the end of day your first day you'll know what we mean!
Further training on inclines is included in the off road element, which is ideal preperation as not all roads are flat! Once you (and we) are confident you've got it, we'll transfer these skills on to the road.
All of our students are actively encouraged to take advantage of the extensive facilities on offer at Mallory Park.
This enables all clients to experience:
Correct use of brakes to perform emergency stops at up to 65 mph. (this will be twice the speed of the one on test)
Counter-steering to enable students to safely negotiate bends and corners at road legal speeds.
Use of the racing circuit to get up to the speeds needed for dual carriageway/motorway riding.
Higher speeds also enable our clients to experience road and weather conditions and the feeling of vulnerability BEFORE they go out on the open road.
Hill starts, U Turns (both uphill and downhill) braking on bends and realistic left and right turns.
Module 1 "hazard avoidance" practice every day.
Proper use of gears to obtain realistic rates of acceleration.
The extra experience and machine control that this allows ensures that our clients are fully prepared before going anywhere near a public road. This makes the whole learning experience more enjoyable for both client and instructor. It also means that maximum progress is possible as all the basics have been covered in far greater depth.
We will ensure you become a safe, confident and competent rider.